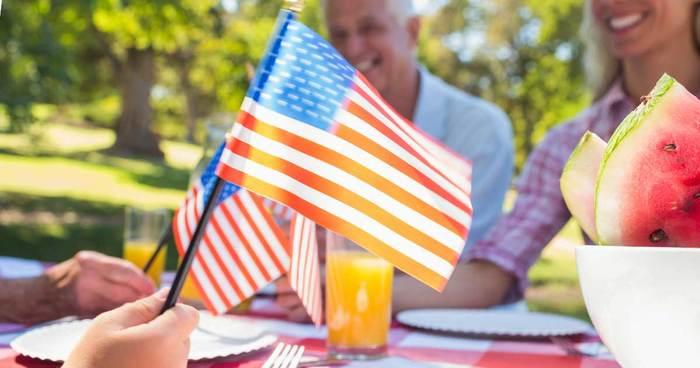 We love celebrating, especially when we get to celebrate the birth of our great country. But let's face it – most holidays in America are calorie-packed and relatively stationary. This can leave us feeling a bit blah.
Instead, we're fans of living every day to the fullest. By infusing celebrations with activities and making the focus on something other than what's on the plate, you can take your holiday to the next level.
To help you get started, we rounded up five of our favorite healthy ways to celebrate the 4th of July in Santa Rosa:
1. Go Classical: 4th of July Fireworks Spectacular with Steve Tyrell and the Santa Rosa Symphony
One of the oldest symphony orchestras on the West Coast, the Santa Rosa Symphony was founded in 1928. It began with just 35 musicians from the local Elks club. Today, it has grown into an 80-plus professional orchestra, drawing top-level talent from around the world.
Join the symphony July 4th at the Weill Hall and Lawn for a masterful performance and fireworks display. Michael Berkowitz, Santa Rosa Symphony's Principal Pops Conductor, will be conducting. The musicians will be joined by vocalist extraordinaire Steve Tyrell. And, music will feature soulful renditions of American classics.
2. Take a Gentle Stroll: London Lake Loop
Located just outside Santa Rosa, Jack London State Park was designated a National Historic Landmark in 1963. This 1,400-acre oasis is home to more than 29 miles of trails, stunning vistas, and historic buildings.
The London Lake Loop is a particular favorite of ours. At just 2.4-miles long, this gentle walk is perfect for enjoying with the family. It takes you past portions of Beauty Ranch (an experimental farm started by the park's namesake), vineyards, redwoods, and London Lake.
3. Head to the Coast: Limantour Spit Trail at Point Reyes National Seashore
Looking to beat the heat? Head to the coast. Just an hour outside of Santa Rosa, the Point Reyes National Seashore features nearly 150 miles of hiking trails. Here you'll find sun, wind, and sandy beaches. Bring your binoculars, because this is one of the best bird watching locations around. The Limantour Spit Trail is just two miles long. It twists along the beach's edge, just above the sand dunes.
4. Sing Along: Red, White and Bloom
The annual Red, White and Blue concert was voted the Best Fireworks Display in Sonoma County by The Press Democrat. However, this family-friendly event is much more than its end-of-the-evening display. It features a fantastic lineup of local bands, including Wonder Bread 5. Covering the hottest songs from the 70s, 80s, and 90s, these gents are all about crowds who sing-along and folks who love to dance.
5. Test Your Competitive Spirit: The 45th Kenwood Footrace
For the competitive spirit, this early morning run is the perfect way to burn a few calories before any indulging takes place. (This is 4th of July after all.) The 45th Kenwood Footrace twists through the heart of Sonoma wine country. The rural roads feature views of lush farmland and quaint homes. There is a 3K and 10K route from which to choose. Both culminate at the Kenwood Plaza Park.
Infuse your Santa Rosa 4th of July celebrations with healthy activities.Click to Tweet
BONUS: Family Picnic + 4th of July Inspired Games
Plan a healthy picnic at the park with family and friends. Be sure to plan some fun 4th of July inspired games. Real Simple has a few fantastic suggestions. We're partial to number four - a scavenger hunt to include the entire family!
How are you planning to celebrate this 4th of July? Pop over to our Facebook page and share!
Celebrate a bit too hard?
If you find you've celebrated a bit too hard, we have you covered there too. Our Drip IV treatments can restore your body's key vitamins and minerals so you can recover quickly.
Enjoy this Article? Let's Keep them Coming.
Make your health a priority. Get our latest updates sent to your inbox.
Published by:

Naturopathic health care with compassionate integrative doctors who understand your unique medical needs.