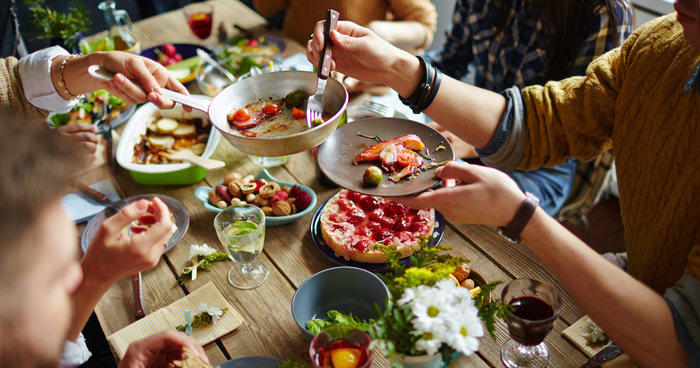 Thanksgiving might just be our favorite holiday. There's nothing better than gathering together with loved ones.
Unfortunately, the traditional Thanksgiving Day feast can leave even the best of us wallowing in a food coma. The reason is two-fold. We're consuming foods in which we don't normally indulge. And, we have a tendency to overeat. The combination can negatively affect us for days.
While we're not going to suggest something as preposterous as 'skip the pie,' we do have a few tips to help you enjoy this year's Thanksgiving without paying for it.
1. Get a Workout In
Start the day off with a workout. You don't have to go all out, but get some exercise in. As wonderful as Thanksgiving is, it can be stressful. And, stress can cause you to overindulge in food and booze. Working out gets your endorphins flowing and decreases your stress. This allows you to more easily face any high-tension moments (hello dad's stance on the Presidential election) without turning to a calorie crutch.
Workout before feasting to curb high-tension Thanksgiving moments with endorphins rather than calories.Click to Tweet
2. Drink Lots of Water
When you get dehydrated, you're more likely to eat. By drinking plenty of water throughout the day, you'll curb your appetite. And, on the off chance you drink one too many cocktails, you'll have less of a headache.
3. Plate and Eat Your Green Veggies First
A slice of turkey can take up a lot of room on your plate. So too can your mashed potatoes and stuffing. One of the best ways to enjoy everything, without overdoing it, is to plate your green veggies first and eat them before other items on your plate. This will help you feel okay about taking a little less of everything else.
4. Monitor Your Portion Size
A scoop of mashed potatoes isn't going to be the end of the world for anyone. Three scoops could cause a bit of a bellyache. Consider your portion sizes so you can enjoy each item without overdoing it.
5. Share Your Slice
Desserts probably aren't something in which you indulge all the time. But, a slice of your Great Aunt's pumpkin pie? That's probably not something you'll want to skip. Rather than go all out with your own slice, share it. You can savor the creamy filling and buttery crust without experiencing (too much) of a sugar rush.
Need Help With Your Diet?
At Tru Health we offer a medically supervised weight loss program that can help you maximize your efforts.
Enjoy this Article? Let's Keep them Coming.
Make your health a priority. Get our latest updates sent to your inbox.
Published by:

Naturopathic health care with compassionate integrative doctors who understand your unique medical needs.