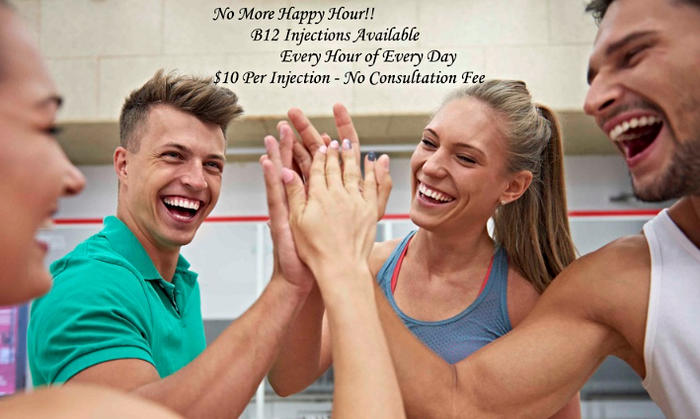 B12 Injections in Santa Rosa
---
The Doctors at Tru Health Medicine are dedicated to you and your family's health.
That is why we are now offering our B12 injections for just $10 every day of the week.
At Tru Health Medicine it is B12 happy hour every day.
---
You do not have to be a current patient, Call: 707-292-8882
No consultation fee!
B 12 has many functions in the body and the health benefits of B12 are significant when given as an injection. B12 has been shown to help with detoxification as all fat soluble toxic chemicals require B12 to be cleaned from the body. B 12 is though of as a "happy vitamin" and actually works to help produce Serotonin - This is one of the chemicals produced in your brain that helps you stay positive and is often referred to as a "feel good" chemical. Integrative medicine can help you feel good on the inside and out!
Your liver is your bodies detoxifying organ and uses B12 to process fatty and amino acids used in the elimination of toxins. B12 injections are also helpful for improving nervous system health and function by supporting the fatty tissue around your nerves called myelin, which protects your nerves from damage.
---
The purpose of the Vitamin B12 injections
-to improve energy levels, boost metabolism and help burn fat, some of the key benefits are:
Helps to regulate sleep, mood, appetite, and energy.
Increases Red Blood Cell Production
Keeps nerves healthy
Boosts energy levels
Boosts metabolism
Lessens the feelings of depression
Decreases systemic inflammation (lowers homocysteine - a cardiovascular risk marker)
Improves mood
Supports immune function
Decreases headaches
Corrects B12 deficiencies caused by many common medications (H2 blockers, metformin, antibiotics and Proton Pump Inhibitors)
One of the most important nutrients to make sure you are getting enough of is B12. However, many people don't think much about it. Depending upon the latest "vitamin trends", the information we are being exposed to in the papers, on the news and in articles is usually focused on one vitamin or supplement and all others are overlooked. Our integrative medical clinic offers B12 injections for just $10, anytime, any day of the week - unlimited! B12 happy hour every day!
---
B12 is One of Many Important B Vitamins - Read More Here
---
B 12 Deficiency
There are numerous signs of possible B12 deficiency, such as
lack of memory and poor cognitive function
anemia
nervous system symptoms
lack of energy
premature signs of aging
much more
B12 is needed for healthy metabolism as well as general health. B12 is required for our blood to be healthy (preventing anemia), healthy nerve cell and nervous system signaling, DNA synthesis and to avoid the effects of early physical aging.
While it is important to maintain adequate levels of B12 in your diet, much of what we ingest in the form of supplements is passed right through our gastrointestinal tract unabsorbed. As a general rule of thumb, you can count on absorbing about 30 percent of what supplement you are taking. This is why the B12 Injections are so important. By getting a B12 injection, you are able to benefit directly and immediately, by receiving 100 percent of the vitamin dose directly into your cells. B12 injections need to be provided by your doctor in Santa Rosa at Tru Health Medicine.
---
Vitamin Deficiency and Disease Prevention - Read More Here
---
Why is it better to receive a shot vs. taking an oral supplement?
The stomach acids that aid in the natural digestion of food will break down the oral supplement in your stomach, and only allow the body to absorb a small amount of the actual B12. As you get older your body's ability to absorb B12 through digestion continually decreases. The enzymes used to break down and metabolize vitamins decrease as you age. Vitamin injections and IV's provide a direct method of supplying the body with nutrients. As the B12 enters the blood stream, it is more readily available for the body to use as needed.
Length of time Vitamin B12 lasts in the body
Vitamin B12 is a water-soluble vitamin, which means it easily dissolves in water and is not stored by the body. It is eliminated through the urine, typically between 24 and 72 hours depending on how active a person is and the amount of fluids they take in. Due to the rapid rate with which the body processes Vitamin B12 frequent supplementation is needed to address deficiencies and gain maximum benefits. We recommend an injection once per week, but it can be done daily if needed.
---
Frequently Asked Questions for Vitamin Injection
1) How often can I get injections?
Most patients typically get either the B12 or our other vitamin injections once per week. If you are feeling tired or under stressed you will benefit from getting more than one injection per week. Not only will it help you with your energy, B12 and lipotropic shots boost your immunity, increase metabolism, and improve your overall health. Our Santa Rosa clinic is conveniently located just off of the 101.
2) Does it hurt?
B12 injections are relatively painless. Most patients do not feel the needle at all, where some feel a little pinch.
3) Age Range
B12 injections are safe for all ages over 12 with parental consent
4) Is it safe during pregnancy and breastfeeding?
Yes. B12 is a water soluble vitamin that is deficient in most individuals. Getting a weekly will give you enough nutrients for both you and your baby. Any excess vitamin B12 will be excreted.
5) Where is the shot administered?
The most common locations can be administered on your upper arm and buttock.
6) Contraindications
There are no contraindications for this injection, unless you have a rare B12 allergy.
7) Benefits of the injections
Vitamin B12 injections help speed up metabolism, kickstart weight loss, help with stress, help with your nervous system, and balance your body overall.
---
Schedule your B12 Injection for Just $10 Dollars,
Call: 707-292-8882
Our Doctors in Santa Rosa were voted the best primary care doctors in 2015, 2016 and 2017. We are Sonoma County's premier integrative medicine clinic with Santa Rosa's first and oldest IV micronutrient Drip Club for those wanting to heal, thrive and overcome! NO consultation fee!
See you soon!
---
---
Interesting scientific reading:
1) Free Radic Biol Med. 2011 Aug 15;51(4):876-83. doi: 10.1016/j.freeradbiomed.2011.05.034. Epub 2011 Jun 2. Vitamin B12 protects against superoxide-induced cell injury in human aortic endothelial cells. (Corresponding author at: Integrative Medical Sciences, Northeastern Ohio Universities Colleges of Medicine and Pharmacy, Rootstown, OH 44272, USA.) - study showing that B12 can help to prevent cell death in the aorta.
Enjoy this Article? Let's Keep them Coming.
Make your health a priority. Get our latest updates sent to your inbox.
Published by:

Naturopathic health care with compassionate integrative doctors who understand your unique medical needs.