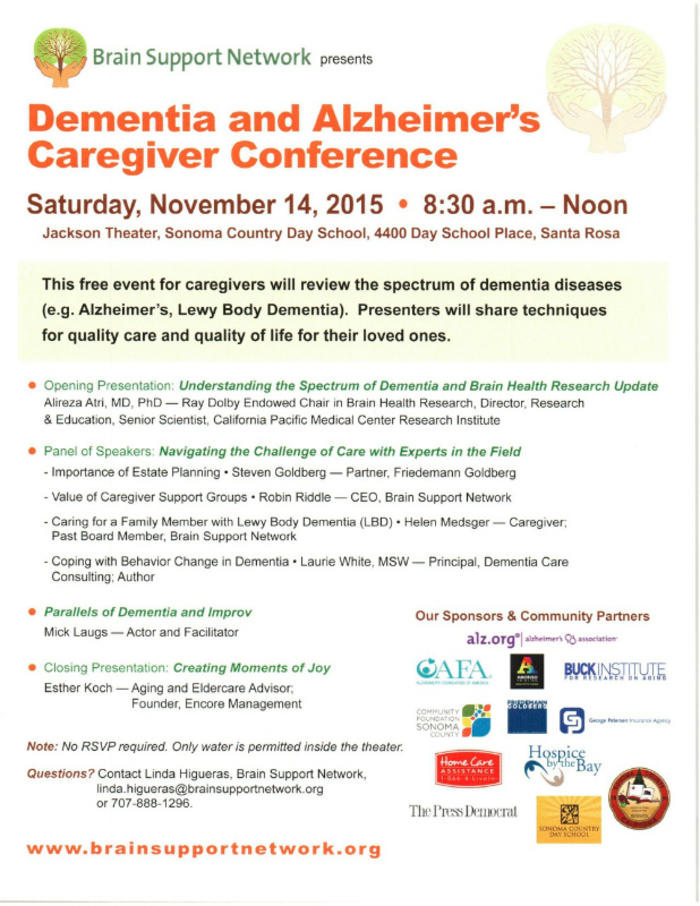 Dementia and Alzheimer's
The Doctors at Tru Health Medicine work with patient that are suffering from Dementia and Alzheimer's disease, to improve their quality of life and to help them overcome the effects of these degenerative problems. There are many factors that can affect the severity of symptoms and our Doctors investigate the many aspects of a person's health to determine the most effective way to help them overcome their health problems. We work together with our patients every step of the way to improve brain function, memory, energy, and the body's ability to maintain balance through challenges.
We are proud to support this year's Dementia and Alzheimer's Caregiver Conference here in Santa Rosa.
To learn more about this event and how you can register call:707-888-1296 and ask to speak with Linda Higueras of the Brain Support Network.
If you or a loved on are suffering with Dementia or Alzheimer's disease and would like to learn more about how integrative and naturopathic medicine can improve your quality of life, call: 707-292-8882.
Enjoy this Article? Let's Keep them Coming.
Make your health a priority. Get our latest updates sent to your inbox.
Published by:

Naturopathic health care with compassionate integrative doctors who understand your unique medical needs.