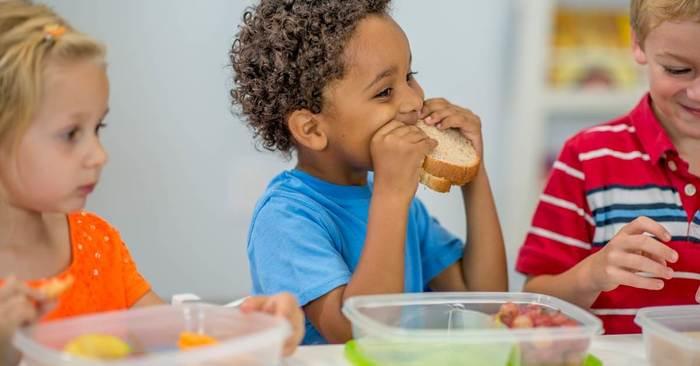 The kids are back in school! Whether you're lamenting the days spent playing together, rejoicing over newfound free time or some of both, you're likely thinking about what they're eating for lunch. Because as all parents well know, just because you pack a lunch doesn't mean they'll eat it.

The following healthy school lunch tips will help you pack the healthiest lunches that they'll actually eat.
5 Healthy School Lunch Tips
1. Have Your Children Help with Prep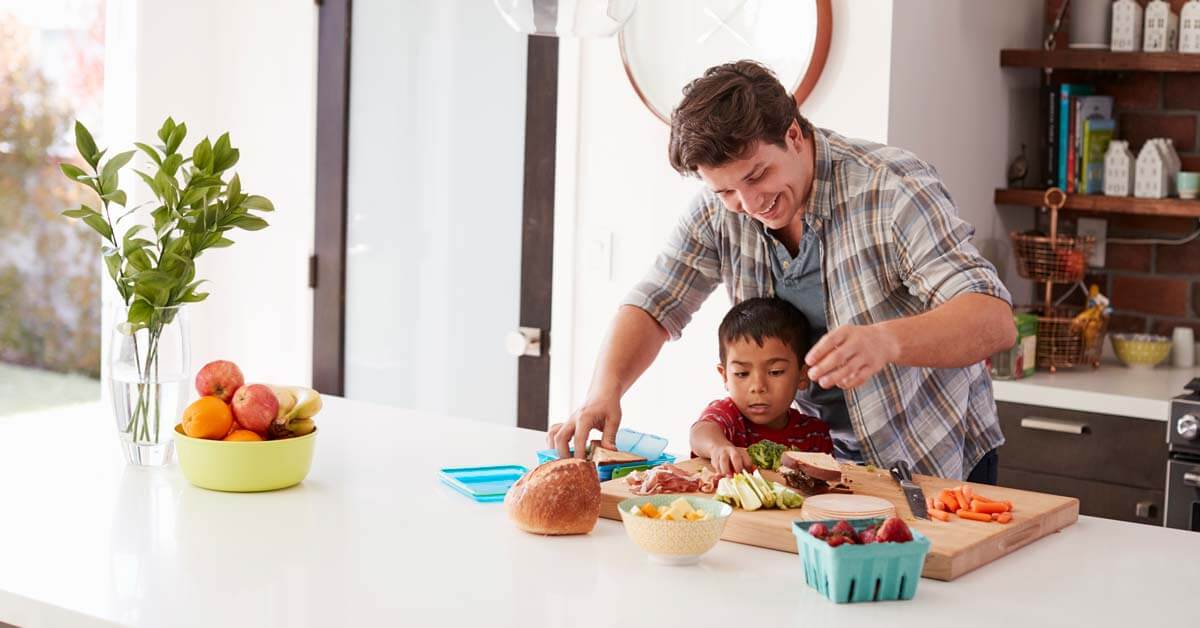 As humans, we're tactile beings. The more we touch and interact with something, the more interested we become in it — this is especially true of children. When it comes to back to school lunches, having your child help with prep is one of the best ways to ensure they'll actually eat lunch.

Helping gives them a sense of ownership and independence. Eventually, it may even take something off your own to-do list. (Talk about a parenting win!)
Let Them Pick from Healthy Options. Invite them into the kitchen and tell them (or show them) their choices. Then, let them pick. This allows you to still ensure they're getting vitamins and nutrients, while also allowing them to decide.
Take Them Grocery Shopping. Bringing them on the shopping trip can help them see the large variety of choices. It can also help them begin to start understanding budgets and how to navigate a grocery store.
Have Them Assemble. You'll likely still want to handle any chopping, but your kids can definitely fill containers with cut up veggies and dips.
2. Make Your Own Snacks
One of the biggest problems we encounter with kid-friendly lunch ideas is how many involve processed foods — foods that are filled with preservatives, hydrogenated fats, and copious quantities of refined sugar.
In order to send your child with yummy snacks that they will like and you'll feel good about them eating, make your own. This gives you control over what's added.
3. Include all the Food Groups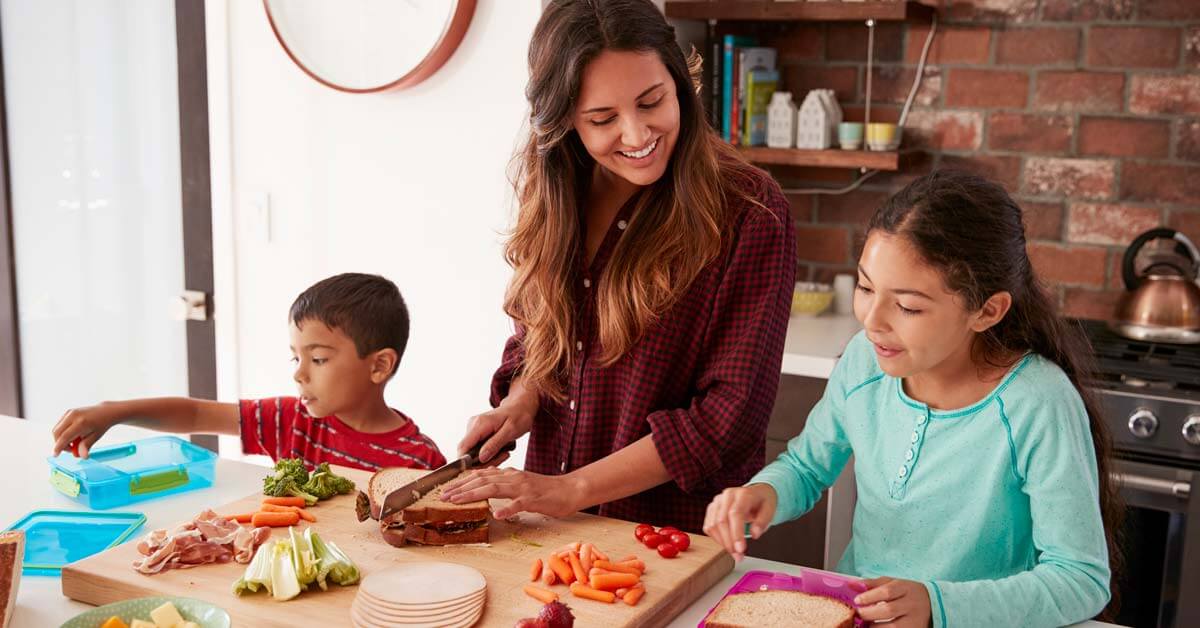 Hunger makes it hard to concentrate. That's why good lunch ideas for school include something from every food group. Because while your child make be more interested in carbs, they'll burn through carbs fast. Try to also think about lean proteins, like baked chicken and hard-boiled eggs. Incorporate dairy, such as yogurt or cheese. Add vegetables and fruit as often as possible. This will help round out their lunch.

4. Promote Hydration
Healthy school lunches aren't just made up of food. They include plenty of water too. Make sure you encourage your child to hydrate throughout the day. This will help their memory retention, attention span, and overall wellbeing. (It can also play a substantial role in helping them ward off illness!)
Let Them Pick Their Own Water Bottle. As with picking their own food, picking their own water bottle helps build a sense of ownership and encourages them to use the bottle.
Add Some Frozen Fruit. Do your kids find water too boring? Add a few pieces of frozen fruit. It will flavor the water and keep it chilled.
5. Pack it Pretty (and Safe)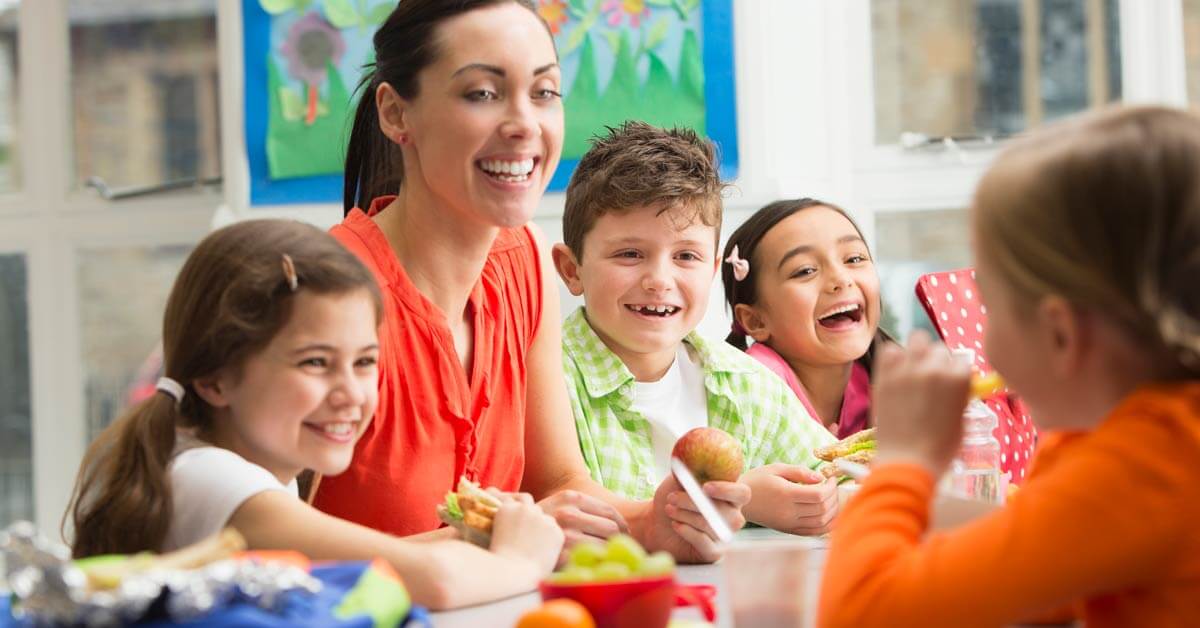 Your child probably loves to wear their Superman t-shirt of Disney Princess sparkle shoes. Why? Because they're excited about how it looks. This isn't limited to clothing. Pick a lunch box that features their favorite things – such as superheroes, Disney characters or animals. And, be sure to select a lunchbox that will keep their lunch at a safe temperature. An insulated lunchbox with space for an ice pack is typically idea, as your child will often not have access to refrigeration.

5 Kid-Friendly Lunch Ideas
Need some help with creative ideas? The following recipes are perfect when it comes to planning kid-friendly school lunches. Many of them can even be prepared on Sunday, so you don't have to worry about making lunch throughout the week!

1. Prune Energy Balls
These probiotic-rich balls are sweetened with dates and packed with peanut butter for a protein-rich treat that also delivers nutrients. Unsweetened coconut bring texture and added flavor your kids will love, while hemp seeds give it extra fatty acid to help the energy stick with them throughout the day.
2. Maple-Sweetened Banana Muffins
Fluffy, whole grained and naturally sweetened. These banana muffins make a great breakfast and fabulous addition to lunch.
3. Broccoli Pesto Pasta
How can you get more veggies into their diet? Hide them! This Broccoli Pesto Pasta is a sneaky and delicious way to get your kids to eat their broccoli.
4. Thai Noodle Salad
Loaded with veggies and doused in a sweet-savory peanut sauce, this Thai noodle salad is definitely for a child with an adventurous palette. But once they take a bite, your little foodie will be begging you for this again and again.
5. Sweet Potato and Black Bean Burritos
There's something about burritos that kids just love. This one in particular is a favorite with its sweet touch from the sweet potatoes. You'll love the fact that it also delivers protein from the black beans.
How Else Can I Protect My Children?
From immunization consultation to allergy sensitivities, Tru Health's naturopathic doctors offer a holistic approach to your families general practice needs.
Additional Healthy Tips for Your Children
With Sonoma County seemingly engulfed in smoke, use the following diet tips and advice on healthy kids activities to keep your kids safe!
Feel like spending time with your kids is keeping you from your fitness goals? Don't let it! Incorporate fun, physical activities into your family's lifestyle for a healthier and more fulfilled home.
Feel like spring pollen is forcing you to choose between staying indoors and a runny nose? Chemically engineered meds aren't your only option. Natural hay fever relief is possible to find. Discover natural hay fever solutions and remedies!
Looking for a powerful way to prevent hunger pains, boost your metabolism and stay energized throughout the day? Focus on eating meals at a regular time. This promotes self-control and a consistent routine to help you live a healthier lifestyle!"
Looking for homeopathic & natural ways to prevent the flu without getting a flu shot? Prevent symptoms, get better faster, and avoid the cold and flu this fall with a natural flu shot alternative.
Enjoy this Article? Let's Keep them Coming.
Make your health a priority. Get our latest updates sent to your inbox.
Published by:

Naturopathic health care with compassionate integrative doctors who understand your unique medical needs.