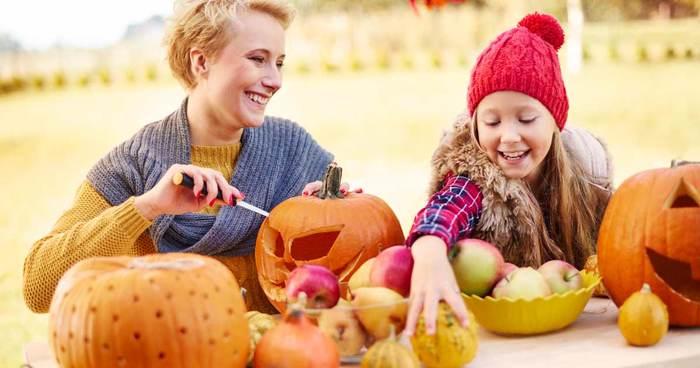 Halloween – the holiday that's filled with ghosts, ghouls and awesome costumes. Here in Santa Rosa, there are tons fun, family-friendly events. From the Tolay Fall Festival and Halloween at Howarth Park to the Hallowine 5k and Halloween Trick or Treat Trail, Sonoma County knows how to have a good time.
But, what if you want to throw an epic, healthy bash for your kiddos at home? We have you covered. Use these tips to host a Halloween party your kids will love and you'll feel good about.
Cast a Spell with Your Decorations
Low lighting, spooky figurines, and a scarecrow (or two) will take your house from home to haunted castle. You might even take it up a notch with glow-in-the-dark jars or a spooky special effects mirror that talks!
Turn up the Ghosts
Don't have ghosts at home? You're not alone. Luckily, you can bring them to the party with some spooky background music. Buy a few CDs or select a great playlist of eerie Halloween tunes. You might consider "Monster Mash," "Witch Doctor" or "Ghostbusters" as a start.
Focus on the Games
Most parties focus on the food. It makes sense. Food is amazing. But, set your party apart by focusing on the games. Some of our favorites include:
Guess the Grossness – Place the following in their own bowl: cold spaghetti tossed in olive oil, peeled grapes, and dried figs. Cover each bowl so the contents are hidden. Label the spaghetti - witches' intestines. Label the grapes - eyeballs. Label the figs - dried livers. Then, ask your guests to guess what each item really is.
Mummy Wrap Race – Split the groups into teams, Give each team a roll of toilet paper. Set a timer for 30 seconds, say go, and see which team can wrap their teammate in toilet paper with the least amount of skin and clothing showing.
Host a Costume Parade – Setup a parade route. Then, invite your kiddos to strut their stuff and show off their costumes. To up the ante, take pictures on your smartphone and then broadcast them on your computer for a quick slideshow.
Carve Pumpkins
Invite each guest to bring their own medium pumpkin. Have a few pumpkin-carving kits on hand, several pumpkin face stencils, and lots of buckets for the mess. After each pumpkin is carved, place a lit candle in the center, and set them outside for everyone to admire.
Have a few additional tips to add? Drop by our Facebook page. We'd love to hear them.
Enjoy this Article? Let's Keep them Coming.
Make your health a priority. Get our latest updates sent to your inbox.
Published by:

Naturopathic health care with compassionate integrative doctors who understand your unique medical needs.