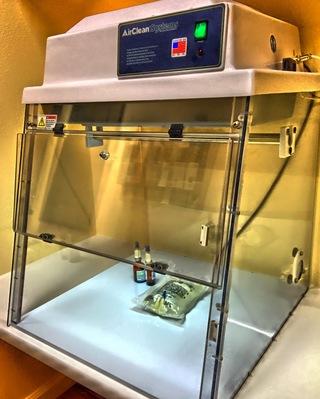 Sterile Preparation Hood at Tru Health Medicine - Ensuring Patient Safety with IV Therapy
IV therapy can be a very safe and powerful therapy when the doctor and clinic are following federal and state guidelines for the preparation and handling of IV products. Many clinics unfortunately aren't even aware of the regulations that were passed several years ago that require any health care provider that is preparing an IV for a patient, to ensure the sterility of that IV bag by preparing it under a sterile hood (air tight clear preparation box).
The majority of the clinics prepare their IV's either on counter tops, in back rooms, or in areas where the ingredient vials are exposed to the air around them which can carry harmful bacteria or other contaminants.
If you are considering getting an IV as a part of your optimal wellness treatment plan, please be informed that there are some important questions you need to ask when learning more about IV therapy in your area. Below are a few of the questions that can help you determine if the IVs you may receive have been prepared properly:
1) Do you prepare IVs that have multiple ingredients in them for patients?
2) How do you ensure sterility of the IV preparations for patients?
3) Do you have on site, a laminar flow IV preparation hood for preparing all of your IVs?
Here at Tru Health Medicine we strive to lead the way in integrative medicine and safety in all of our patient care procedures. If you have any questions about IV therapy, please call: 707-292-8882
Tru Health Medicine was voted best primary care doctors in Santa Rosa in 2015. Sonoma county's leading integrative medicine clinic.
Enjoy this Article? Let's Keep them Coming.
Make your health a priority. Get our latest updates sent to your inbox.
Published by:

Naturopathic health care with compassionate integrative doctors who understand your unique medical needs.