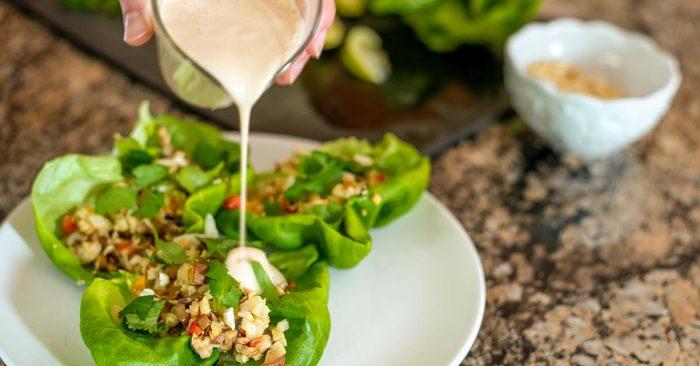 Holidays are magical. The parties. The food. The drinks. Who doesn't love a good excuse to celebrate with loved ones?

But sometimes all those celebrations can get in the way of our weight loss goals. Does that mean you should skip your annual Ugly Christmas Sweater Party, avoid the office holiday shindig and not celebrate New Year's? Absolutely not!
Everyone deserves to celebrate and enjoy themselves. The key to weight loss success during the holidays is planning!! Know you're going to have a celebratory libation? Up your water intake the days leading up to the party. Planning to indulge in a few Christmas cookies? Load up on veggies at lunch.
Want to partake in the cheese fondue your girlfriend is bringing over? Have a healthy, delicious option too — like these Paleo Vegan Cauliflower Lettuce Wraps with Coconut Tahini Sauce.
A riot of flavor and texture, these handheld babies can be a healthy app or a show-stopping family-style main. Packed with nutrients, the Coconut Tahini Sauce offers a luscious, protein-loaded element sure to please the entire crowd.
Cauliflower Rice Lettuce Cups
1 TBS coconut oil
1-pound baby Portabello mushrooms, chopped
Salt and Pepper
3 green onions, sliced
2 red bell peppers, finely diced
1 jalapeno, finely diced
3 cloves garlic, mined
2 cups minced cauliflower
1 lime, juiced
2 heads bib lettuce, separated, washed and dried
1 bunch Cilantro, chopped roughly
1 cup cashews, chopped roughly
Coconut Tahini Sauce
Melt coconut oil in a large nonstick skillet over medium heat until runny. Add the mushrooms. Season with salt and pepper to taste. (Start with a ¼ tsp of each. You can taste and add more as you go.) Sauté mushrooms until reduced to half the size, stirring frequently (roughly 5 minutes).
Add green onion, bell peppers, and jalapeno. Sauté until beginning to soften (5 – 7 minutes). Add garlic and sauté until fragrant (1 – 2 minutes).
Add cauliflower and sauté for 1 – 2 minutes, just until warmed through. Add lime juice and continue cooking for 3 – 4 minutes until cauliflower is just beginning to soften. Serve family warm, family style with lettuce leaves as wrappers and cilantro, cashers, and coconut tahini sauce as toppings.
Coconut Tahini Sauce
1 cup tahini paste
1 13.5-ounce can coconut milk
3 TBS agave nectar (or honey)
3 TBS rice vinegar
2 TBS chili pepper flakes
½ cup water (plus more as needed)
In a blender, at tahini paste, coconut milk, agave, vinegar, chili pepper flakes, and water. Blend until smooth. If the sauce is too thick, blend in additional water, ½ TBS at a time. (Remember, you can always add more water, but you can't take it away.)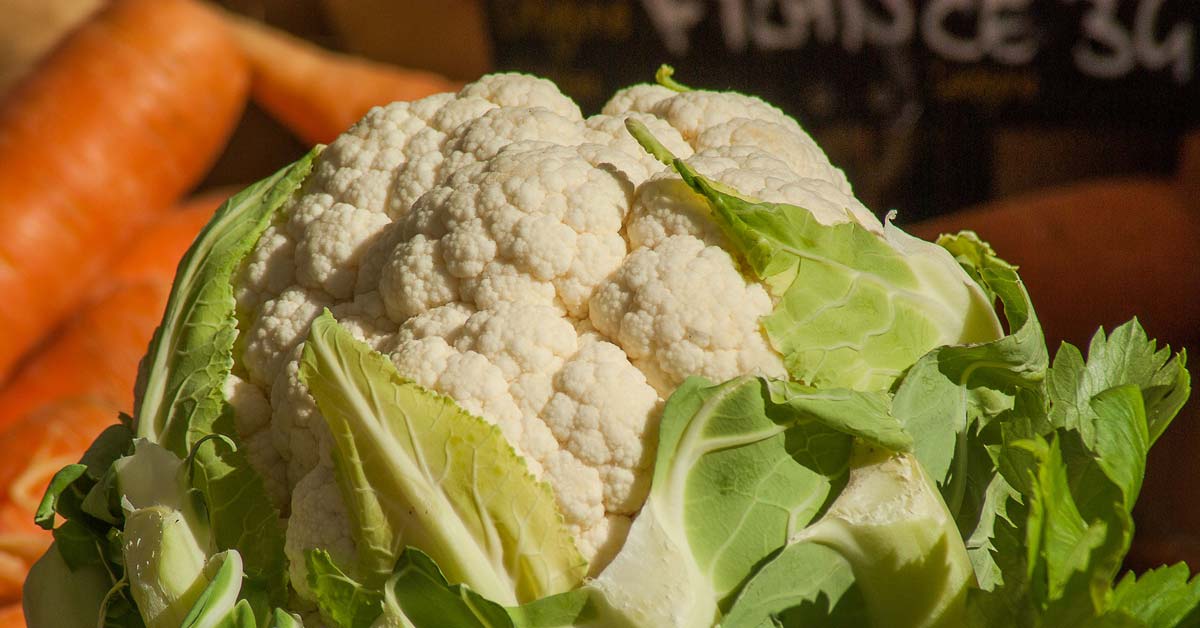 Health Benefits of Cauliflower
In recent years, cauliflower has become a 'food fad' with chefs and bloggers turning it into practically anything, including:
Cauliflower rice
Cauliflower pizza crust
Cauliflower gnocchi
Cauliflower waffles
Cauliflower mashed potatoes
Cauliflower tater tots
Cauliflower buffalo 'wings'
According to the 2018 study from University of Western Australia, jumping on the cauliflower bandwagon could be an incredibly good one for your health. The study showed that cruciferous vegetables (including cauliflower, cabbage broccoli, and Brussels sprouts) are the vegetables most closely associated with keeping artery walls thin. This means, they can help decrease the risk of heart disease and stroke.
Furthermore, a 2015 study found that cauliflower helped to reduce weight gain. The study, "Changes in Intake of Fruits and Vegetables and Weight Change in United States Men and Women Followed for Up to 24 Years: Analysis from Three Prospective Cohort Studies," was published September 22, 2015 in PLOS Medicine.
It showed that fruits and vegetables which are higher in fiber and lower in carbohydrates — like cauliflower — produced fewer blood sugar spikes and reduced hunger.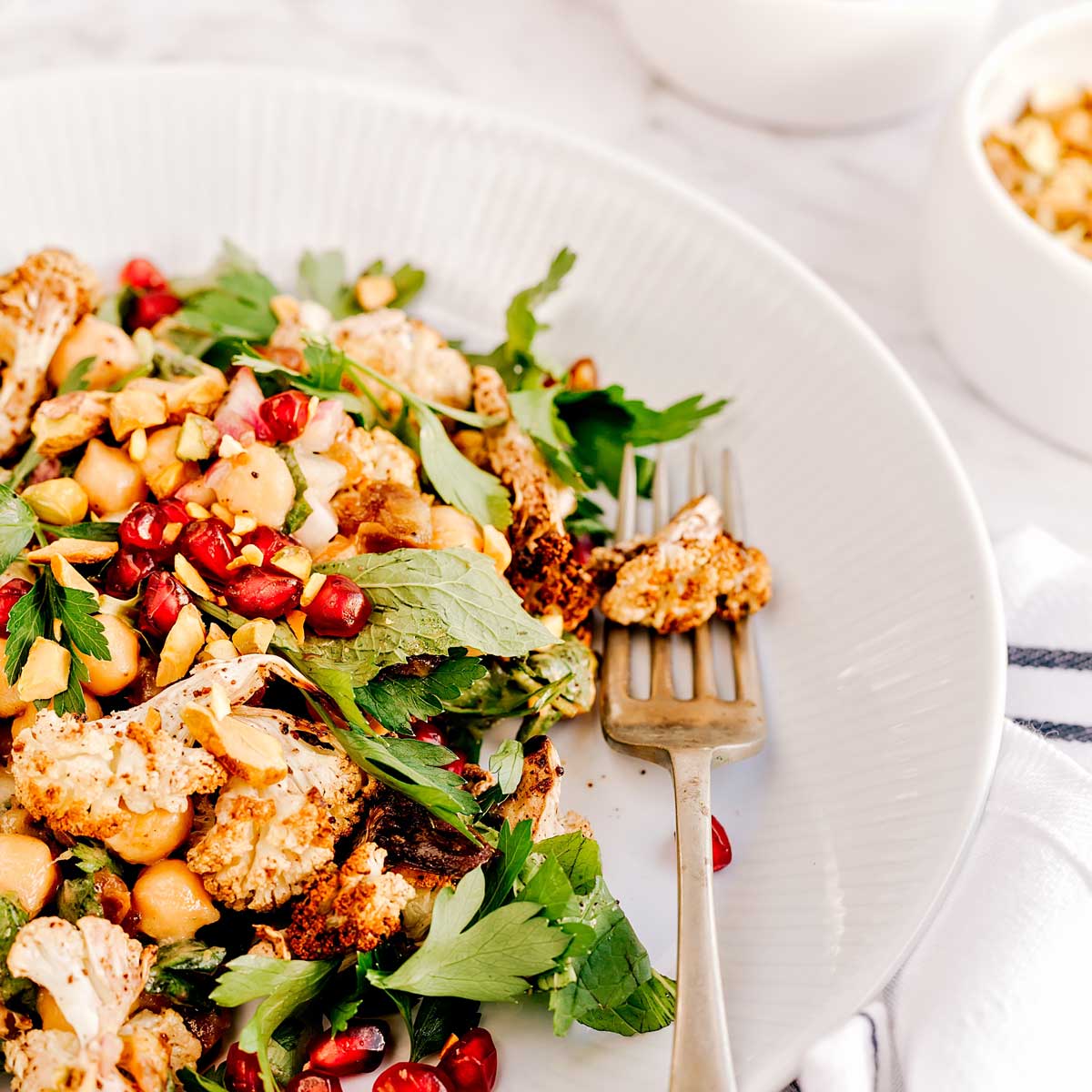 Why a Paleo Vegan Diet Promotes Weight Loss
The detrimental effects of factory farming and processed foods have resulted in both vegan diets and paleo diets becoming extremely popular. However, these two diet plans often butt heads as Paleo followers typically consume a large amount of meat and vegans often consume a large number of paleo-restricted foods, such as beans and grains.
Is it possible to be both paleo and vegan? It sure is. And, the paleo vegan diet can offer substantial health benefits including:
Fast, healthy weight loss
Healthy Omega 3s
Tons of nutrients
Reduced inflammation
Reduced cravings
Improved digestion
The paleo vegan diet eliminates processed foods, chemical-loaded meats and processed sugars. This helps the cleanse the body of harmful toxins and reduced exposure to them moving forward.
Medically Supervised Weight Loss Improves Results
No matter what lifestyle changes you make and diets you try, losing weight is no cakewalk. It's tough work — especially if you are trying to do it on your own. With Tru Health's medically supervised weight loss program, you get the support and guidance you need to lose weight fast and keep it off.
Additional Paleo Vegan Recipes
Sweet potato fries with avocado dipping sauce are the paleo vegan finger food so indulgent even your non-paleo friends will nosh like it's their job.
We've gathered the best in paleo-vegan finger foods so you can create the ultimate antipasti platter for the big day.
How can you enjoy holiday drinks without piling on the pounds? What are the lowest calorie alcoholic drinks? The answers may surprise you!
Loaded with antioxidants, this bright salad is packed with flavor and texture that doesn't disappoint.
Popsicles are traditionally loaded with sugar and preservatives. But when you make homemade popsicles, you can make delightful treats that are healthy!
Bright colors, sweet beets, and hearty quinoa make this hearty bowl a satisfying lunch or dinner.
Enjoy this Article? Let's Keep them Coming.
Make your health a priority. Get our latest updates sent to your inbox.
Published by:

Naturopathic health care with compassionate integrative doctors who understand your unique medical needs.