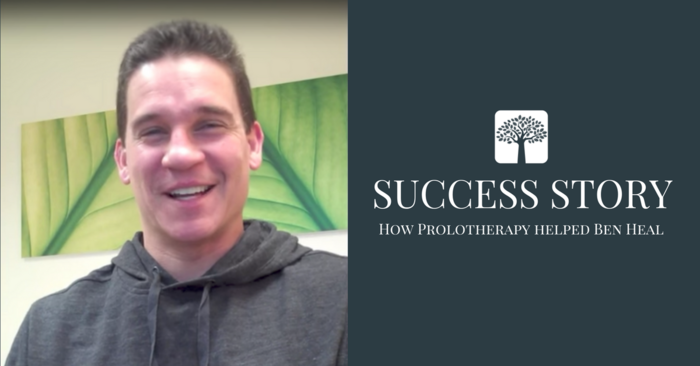 After being told to 'get used to being disabled,' Ben received six rounds of prolotherapy treatments and was able to resume his active lifestyle.
In his early 20s, Ben suffer a major back injury. On the recommendation of his general practitioner, he underwent an invasive back surgery. It was unsuccessful. His doctor told him to 'get used to being disabled.'
Unsatisfied, Ben looked to other forms of treatment. The problem was, the surgery treated his symptom (a bulging disc) rather than the cause (torn ligaments).
Between the ages of 23 and 24, he underwent 6 rounds of prolotherapy treatments, which specifically treated his torn ligaments. The localized injections promoted the body's natural ability to heal itself.
The Result: Ben went from being unable to walk a city block to surfing and working out regularly.
In recent years, Ben turned again to prolotherapy when he had problems with his knees. As a baseball coach, he liked to be active and run with his players. Unfortunately, knee pain kept him from running.
Following his prolotherapy treatments, he's been able to resume running, has regained his athleticism, and has almost no pain on a daily basis.
Prolotherapy Can Help Improve Mental State
After receiving prolotherapy treatment, Ben no longer needed pain killers or drink alcohol to dull his pain. For Ben, this was been a surprising and enjoyable benefit of prololotherapy.
Schedule Your Complimentary Consultation
Prolotherapy Month Reading Roundup
Week 1: 7 Awesome Santa Rosa Rides7 Awesome Santa Rosa Rides
Week 2: Common Causes and Solutions for Cycling Repetitive Motion Injuries
Week 3: Why Does My Knee Hurt While Cycling?
Week 4: Prolotherapy Helped Been to Walk and Run Again
Enjoy this Article? Let's Keep them Coming.
Make your health a priority. Get our latest updates sent to your inbox.
Published by:

Naturopathic health care with compassionate integrative doctors who understand your unique medical needs.