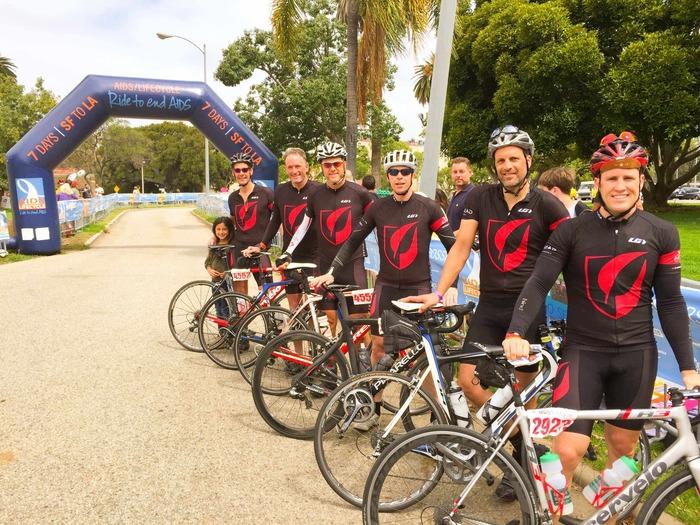 Ride to End AIDS - Cycling from San Francisco to LA
This year, Tru Health medicine was proud to support the riders of team Gilead as they made the harrowing journey from San Francisco to Los Angeles with the aim to end AIDS. This special event is designed to raise awareness and funds for fighting AIDS. These professional cyclists are awe inspiring and have dedicated their lives to service and compassion.
Tru Health Medicine helped the cyclists of team Gilead raise over 200,000.00 to support each of the riders in their efforts to end AIDS.
We are proud to help professional athletes and cyclists achieve their dreams and aspirations in their communities and we make it our goal every year to be of service to our own local community through events like this.
Many cyclists suffer from joint injuries, knee injuries, hip injuries and are frequently told to either receive a corticosteroid injection for the pain, or sometimes if the injury is significant enough, they are told that surgery is their only option. These athletes generally are looking for ways to heal their injuries that are non invasive and non surgical. Prolotherapy can be a powerful therapy for helping to heal ligament tears, joint injuries, and tendon injuries from cycling. Getting these cyclists back on the road and back in gear can change their lives (as well as the lives of those around them) and help them do the things they love to do most.
Team Gilead has made us proud and we look forward to more successful rides like this in the future.
"Get a bicycle. You will certainly not regret it, if you live." ~ Mark Twain
To learn more about prolotherapy in santa rosa, or PRP in our prolotherapy clinic, call Tru Health Medicine and set up a consultation with one of our prolotherapy doctors and specialists.
707-292-8882
Enjoy this Article? Let's Keep them Coming.
Make your health a priority. Get our latest updates sent to your inbox.
Published by:

Naturopathic health care with compassionate integrative doctors who understand your unique medical needs.