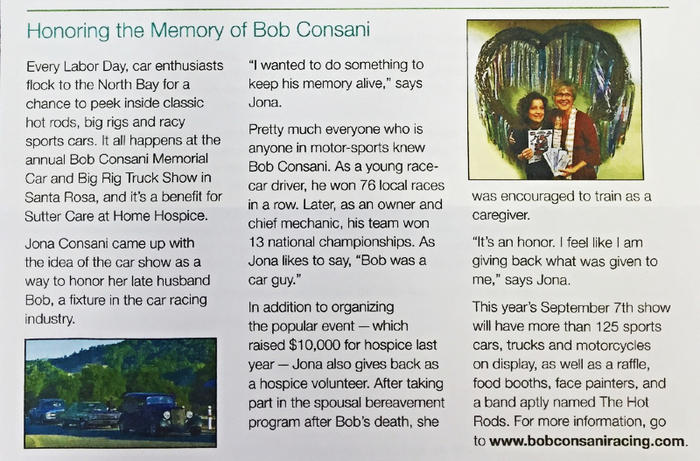 It is that time of year again! Each labor day marks the passing of Bob Consani in 2007, and each year is an opportunity to honor him as well as the loving and kind hospice care workers that made the end of his life one of dignity and compassion ~ in his own home. He passed in the comfort of his own surroundings, with all that was dear to him and his kitty laying on him until he took his last breath.
Last year alone, this event helped to raise over 700 lbs of canned food donations and $10,000.00 that went to the angelic hospice workers at Sutter Hospice.
We at Tru Health Medicine are honored to be able to participate in the fundraising events and are excited about this years festivities!
Live music
Raffle
Food drive (please bring a few cans)
Great food all day
Hot coffee and breakfast items
Trophies and prizes
Amazing classic car show, trucks and motorcycles
Please come and join the community fun at Lake Sonoma - see you there!!!
Monday September 7th 2015 from 8am-2pm, at Lake Sonoma

Enjoy this Article? Let's Keep them Coming.
Make your health a priority. Get our latest updates sent to your inbox.
Published by:

Naturopathic health care with compassionate integrative doctors who understand your unique medical needs.