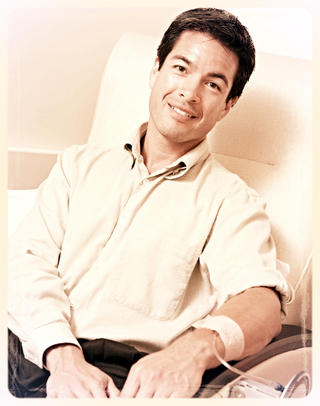 Intravenous Nutritional Therapy
---
What is IV Therapy?
Intravenous Therapy (sometimes called IVNT) is a very specialized form of integrative medicine. It uses the healing power of natural nutrients (vitamins, minerals and amino acids) to help patients regain their vitality.
Who Needs IV Therapy?
Not everyone is qualified to receive IV therapy. Our doctors do a very careful review of a patient's medical history and labs to determine if they are eligible to receive this powerful therapy. Once approved, our doctors give patients either injections or IV drips that may contain vitamins, minerals, or other beneficial substances. Conditions that may benefit from IV therapy include (but are not limited to) the following:
Aging
Alcohol detoxification
Arthritis
Asthma
Autoimmune Disease
Anxiety
Cancer Therapy Support
Celiac Disease
Chronic Fatigue Syndrome
Chronic Hives
Crohn's Disease
Depression
Eczema
Fibromyalgia
Gastrointestinal Issues
Hypothyroidism
Liver Diseases
Lupus
Macular Degeneration
Memory Loss
Migraines
Multiple Sclerosis
Neuropathy
Parkinson's Disease
Scleroderma and Sjogren's
Ulcerative Colitis
5MTHFR Genetic Mutations
---
IV's Versus Vitamin Supplements
When patients come into our IV therapy clinic, it is because they know we have the experience to help them. Most of these patients are already on many supplements that have been given to them by other doctors. The truth is, most of us are not getting what we think we are from vitamin supplements. Doctors generally assume (based on research) that patients will only absorb 15-25 percent of what they ingest orally - and that is if someone has perfect digestion. Many of these patients that are taking vitamins to improve their health also have a variety of absorption problems within their gastrointestinal system as a result of their health problems.
These varied and complex GI absorption problems can make the transport of nutrients into the bloodstream less efficient. In fact, it can require a much larger than normal amount of energy for the body to absorb even small amounts of the vital nutrients that are required for optimal health and wellness. Our doctors frequently find that as patients age, their ability to absorb nutrients decreases quite significantly. This decline in the absorption of nutrients can be due to a gradual decrease in the overall secretion of hydrochloric acid by the stomach. Typically our doctors will notice that this can lead to a decrease in the pancreatic enzymes needed to break down food or supplements so that intestinal absorption can occur, which only further worsens the problem.
---
Dramatic IV Micronutrient Therapy Advantages
IV therapies are easy to receive and are viewed as being a safe integrative therapy. Intravenous nutrients can help to prevent and correct the deficiencies that are caused by absorption problems. They are also powerful therapies that can help to boost energy levels and combat the deterioration of the body that is associated with aging and illness. Parenteral micronutrient therapy (IV therapy, IVNT, micronutrient therapy) has a very long safety record in the united states. The absence of adverse outcomes is due in large part to the fact that the nutrients are naturally occurring and essential for optimal function of the human body and its many complex systems. The nutrients (vitamins, amino acids, minerals) are actually quite simple in structure and have low potential for hypersensitivity or antigenicity.
Getting an IV of these required nutrients ensures that they are absorbed into the target cells as a result of being delivered directly into the bloodstream, rather than relying on the minimal GI absorption of oral supplements or food lacking food sources of these elements. The GI also will alter the nutrients due to the effect of digestive enzymes, which is a problem that can be avoided with direct cellular nutrition as a result of IV therapy.
The advantage of using nutrients, herbal extracts, and other naturally derived parenteral substances is the lack of side effects. The principle reason for nutritional IV therapy is to supply elements of normal body metabolism and those required for resolution of illness.
---
What are the Disadvantages of IVs?
IV therapies are higher in cost than the bottled supplements, but they are also much more effective. Due to the requirement of administering the IV slowly, they can take some time. There is sometimes patient discomfort as a result of the needle stick (similar to getting a blood draw) and occasionally there can be slight vein irritation during the IV (which can be corrected).
---
How Many IVs are Needed?
Our Doctors review the medical history and labs of each patient to determine what their needs are as well as the necessary frequency of IV administration. Some of the patients that are seen at our IV clinic are chronically unwell and others are acutely sick. It is common for patients to need a "jump-start" series of IV's that consist of high concentrations of nutrients to get them on the path to true health and vitality. These IV's can often be recommended once a week for a period of several months, depending upon the person and the specifics of their health needs.
At other times, we have patient's that are dedicated to their preventive health plan and on an ongoing basis come in for anti-aging and general health producing effects of IV's on a monthly basis.
---
How do the Doctors Decide What Nutrients to Use?
There are 3 main factors that are looked at when a Doctor determines which nutrients are necessary:
1. Establishing a deficiency of any nutrient. This is determined by a thorough review of a patient's medical history, their symptoms, as well as micronutrient testing and blood-work.
Example: an example of the first factor is magnesium deficiencies. This is a very common deficiency that most of our patients have as a result of poor dietary choices, poor food quality or problems with GI absorption of this nutrient. Typical symptoms may include things like cramping of muscles, abdominal cramping as well as things like chronic migraine headaches.
2. Developing a list of necessary cofactors (other complimentary nutrients) to ensure that the micronutrients are being properly metabolized.
Example: (continuation of the above example) our doctors find that patients will sometimes tolerate the treatment more easily when the amino acid taurine is added, due to its ability to facilitate the transport of Magnesium into the target tissues and cells.
3. Designing a specific strategy for IV's based on the action of a micronutrient on a patient's unique health problem or disease process.
To learn more about Santa Rosa's premier IV therapy clinic and integrative medial center, call: 707-292-8882
---
1. Champagne ET. Low gastric hydrochloric acid secretion and mineral bioavailability. Adv Exp Med Biol. 1989;249:173-84.

2. Aging of the Gastro-Intestinal Tract. Available at: http://mcb.berkeley.edu/courses/mcb135k/lecture41... (190KB .pdf) Accessed October 19, 2005.
3. English J. Gastric balance: heartburn not always caused by excess acid. Available at: http://www.nutritionreview.org/library/gastric.ac... Accessed October 19, 2005.

4. Ziegler EE, Filer LJ, Eds. Present Knowledge in Nutrition. 7th ed. Washington: ILSI Press; 1996: 149, 160.

5. Carter D, Osborne V, Raffety S. Parenteral Micronutrient Therapy, Special Edition. Portland: Privately Published; 2004:49-57.

6. Baumgartner TG, et al. Clinical Guide to Parenteral Micronutrition. 3rd ed. Fujisawa USA, Inc.; 1997:158.

7. Braverman ER. The Healing Nutrients Within. 3rd ed. North Bergen, New Jersey: Basic Health Publications; 2003:131.

8. Ziegler EE, Filer LJ, Eds. Op cit. 174-178.

9. Kane PC, Foster JS, Speight N. The Detoxx Book: Detoxification of Biotoxins in Chronic Neurotoxic Syndromes. Privately Published; 2002:25-29.

10. Phosphatidylcholine. Available at: http://www.pdrhealth.com/drug_info/nmdrugprofiles... Accessed October 19, 2005.

11. Gaby AR. Intravenous nutrient therapy: the "Myers' Cocktail." Altern Med Rev. 2002; 7(5):389-403.

12. Hellne C, Helene W. EB virus in the etiology of infectious mononucleosis. Hosp Pract. July 1970.

13. Niderman. College Findings tie Mono to ED virus. Med World News. Dec 1968.

14. Klenner FR. Massive doses of vitamin C and the virus diseases. J. So Med & Surg. April 1951; 113 (4).

15. University of Maryland Medical Center. Macular degeneration. Available at: http://www.umm.edu/altmed/ConsConditions/MacularD... Accessed October 6, 2005.

16. Warding off macular degeneration. Health News. 2005 Apr;11(4):13-14.

17. Werbach MR. Textbook of Nutritional Medicine. Tarzana, California: Third Line Press;1999: 515-520.

18. Klenner FR. Use of vitamin C as an antibiotic. J. of Appl Nutrit. 1963; 6. (Paper presented at AAN Convention, May 1963, Pasadena, CA.)

19. McCall CE, Copper R. Vitamin C shows promise as a bactericidal agent. Bowman Gray School Med. Alumni News. February 1972; 14:1.

20. Wilkinson JM, Cavanagh HM. Antibacterial activity of 13 honeys against Escherichia coli and Pseudomonas aeruginosa. J Med Food. 2005 Spring;8(1):100-3.

21. Stephen-Haynes J. Evaluation of a honey-impregnated tulle dressing in primary care.Br J Community Nurs. 2004 Jun;Suppl:S21-7.

22. Ueno Y, Kizaki M, Nakagiri R, Kamiya T, Sumi H, Osawa T. Dietary glutathione protects rats from diabetic nephropathy and neuropathy. J Nutr. 2002 May;132(5):897-900.

23. Hansen JC, Gilman AP. Exposure of Arctic populations to methylmercury from consumption of marine food: an updated risk-benefit assessment. Int J Circumpolar Health. 2005 Apr;64(2):121-36.

24. Lindh U, Hudecek R, Danersund A, Eriksson S, Lindvall A. Removal of dental amalgam and other metal alloys supported by antioxidant therapy alleviates symptoms and improves quality of life in patients with amalgam-associated ill health. Neuro Endocrinol Lett. 2002 Oct-Dec;23(5-6):459-82.
25. Goldberg, B., and the Editors of Alternative Medicine Digest. Alternative Medicine Guide to Heart Disease (Tiburon, CA: Future Medicine Publishing, 1997), 82.
IV nutritional therapy is also known as IVNT, IV Drip therapy, IV nutrient administration, parenteral micronutrient therapy or micronutrient therapy. Our doctors are integrative medicine specialists in Santa Rosa that offer IV therapy, IV Drips and nutrient IVs to help patients regain their well being and vitality.
Enjoy this Article? Let's Keep them Coming.
Make your health a priority. Get our latest updates sent to your inbox.
Published by:

Naturopathic health care with compassionate integrative doctors who understand your unique medical needs.