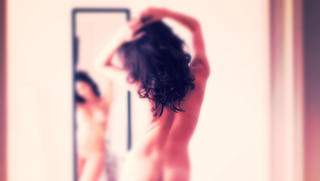 Problems with vaginal dryness?
---
Vaginal Dryness is discussed. The changes in Estrogen as women approach menopause can have dramatic effects on the health of a woman's vaginal wall. There are many symptoms associated with Estrogen changes in the vagina, such as:
Itching
Greater number of urinary infections
More vaginal infections
Decreased vaginal secrections
Pain with sex
Tearing
Vaginal dryness
The quality of intimate relationships can suffer as a result of the many vaginal changes - but there is hope for a healthier vagina, closer intimate relationships and a more satisfying sex life. Unfortunately many women are not educated about the cause of vaginal problems associated with hormone changes or the variety of solutions that are available to them. As many women know, lubrication is a woman's best friend when it comes to maintaining a pain free sex life. BUT, this approach is only temporary and does not do anything to address the problem of hormone imbalance that can also cause problems such as weak bones, memory loss, hot flashes, sleep problems as well as many more.
---
Learn more about the effects of hormone imbalances here
---
While there are many gentle medications that can be prescribed for vaginal dryness, they are not all created equal and some (such as premarin) have actually demonstrated a link to cancer. So what is a woman to do, that is safe and effective as well as gentle?
See your naturopathic medical doctor and ask for a hormone evaluation
Identify hormone imbalances
Discuss your options and do what you feel is best for you as an individual
Our doctors have helped thousands of patients with hormone imbalance successfully, which is one of the reasons we were voted best primary care doctors in Santa Rosa in 2015.
---
If you would like to know more about vaginal dryness, or if you are ready to solve this problem permanently,
call: 707-292-8882. We look forward to helping you!
Enjoy this Article? Let's Keep them Coming.
Make your health a priority. Get our latest updates sent to your inbox.
Published by:

Naturopathic health care with compassionate integrative doctors who understand your unique medical needs.