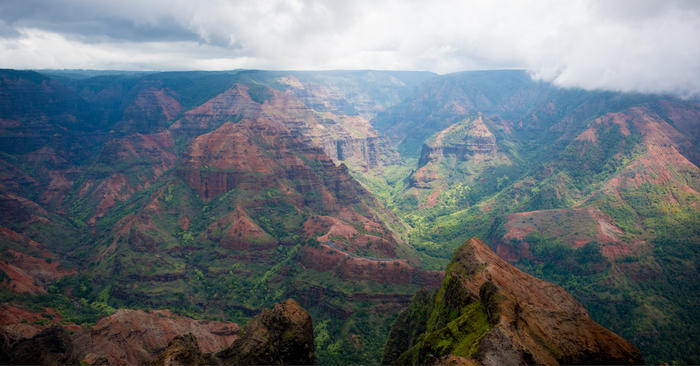 Discover epic hikes, protected coves perfect for swimming, the best Kauai brewed kombucha, and more!
Most vacation guides are full of calorie-heavy restaurant recommendations where cheese and fried-food take center stage. This is not that. This is the kind of vacation that fills you with memories rather convincing you to buy bigger pants.
Hiking to the Hanakapi'ai Falls on the Na Pali Coast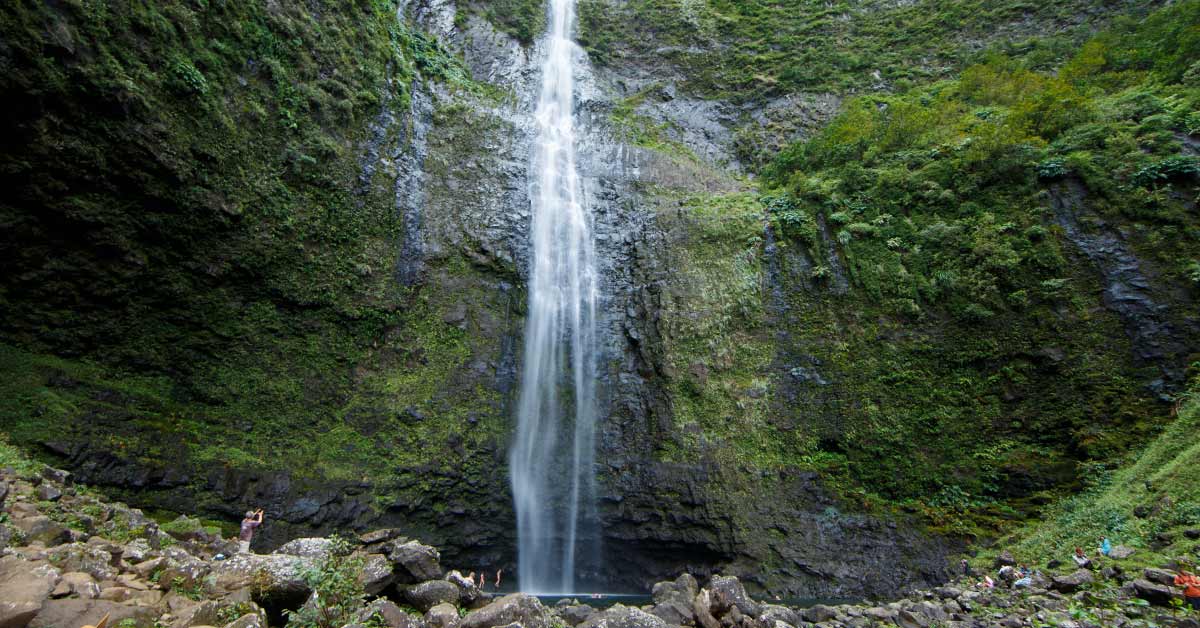 Lush jungle borders steep cliffs. Ocean waves crash against the coast. In the early morning, mist clings to the hillsides. Mountain rivers and streams run through red dirt. This is the Kalalau Trail on the Na Pali Coast.

Accessible only on foot or helicopter, it's one of the most famous hiking destinations in the world. The full trail is an intense 11-mile, overnight backpacking trip that requires a permit.
Luckily, you can sample this beautiful hike without the heavy load. Day trips include a two-mile hike to Hanakapiai Beach or a roughly four-mile hike (eight miles round-trip) to the Hanakapi'ai Falls.
No matter the final destination, each hike begins with a mile-long, 400-foot elevation hill climb over rocks and roots. But don't get discouraged. Within the first ½ mile you'll be greeted by sweeping views of the Na Pali Coast.
To reach the falls, continue on from Hanakapiai Beach, past the bathrooms and into the bamboo forest. Though flat in sections, the hike includes its fair share of mud, river crossings, and steep climbs. But the trek is worth it. The roughly 300-foot high waterfall careens down a moss covered mountain face and into tranquil pool perfect for swimming. Lots of water, a camera, and a bathing suit are highly recommended.
Lae Nani Beach
Not all beaches throughout Kauai are great for swimming. Those that are, are often crowded. That's why we're partial to Lae Nani Beach on the east side of the island. There's a natural inlet, creating a protected area where the waves and undercurrents aren't as strong. Additionally, there are shallow tide pools and a boulder-enclosed ocean pond great for kids. At low tide, there's even a spouting rock!
Kauai Juice Co.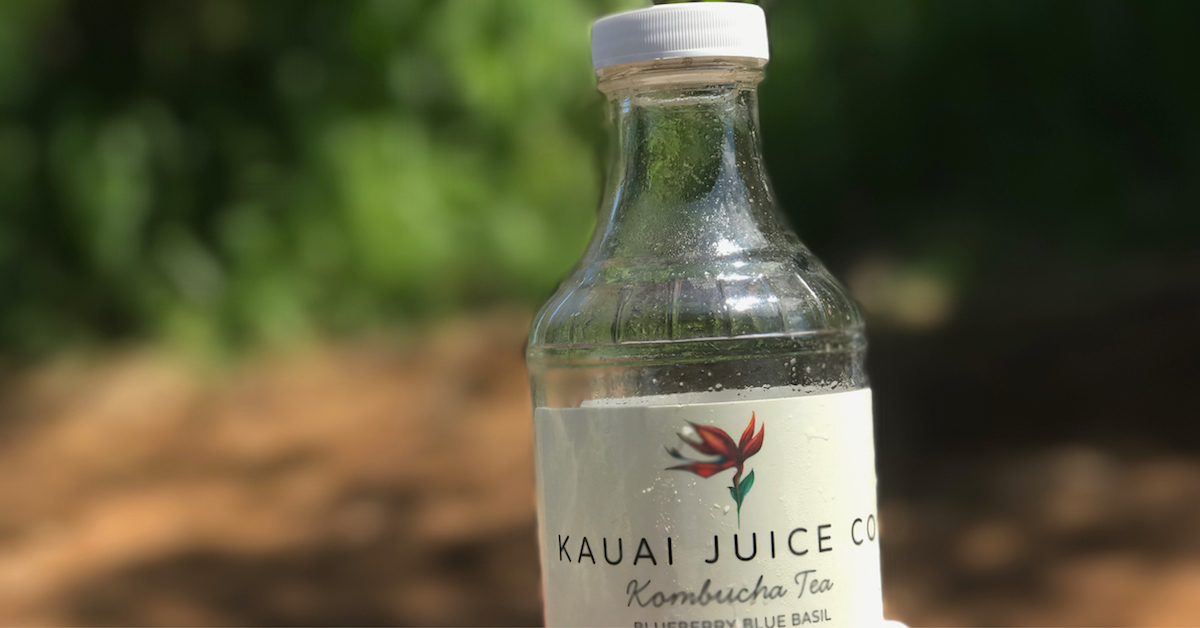 Show your gut some love and your taste buds too at Kauai Juice Co. The selection of naturally fermented kombucha flavors are filled with probiotic goodness. This small series of locally owned and operated shops offer a large menu of kombuchas, hot sauces, cleanses, and daily lunch specials. (All three locations are on Kauai!) Juiced from island-grown products whenever possible, you'll find flavors ranging from Blood Orange and Lilikoi Lychee to Mango and Strawberry Guava. We're quite partial to Blueberry Basil!

Insider Tip: Bring your bottle back washed and you can refill it for just $4!
Shave Ice at JoJo's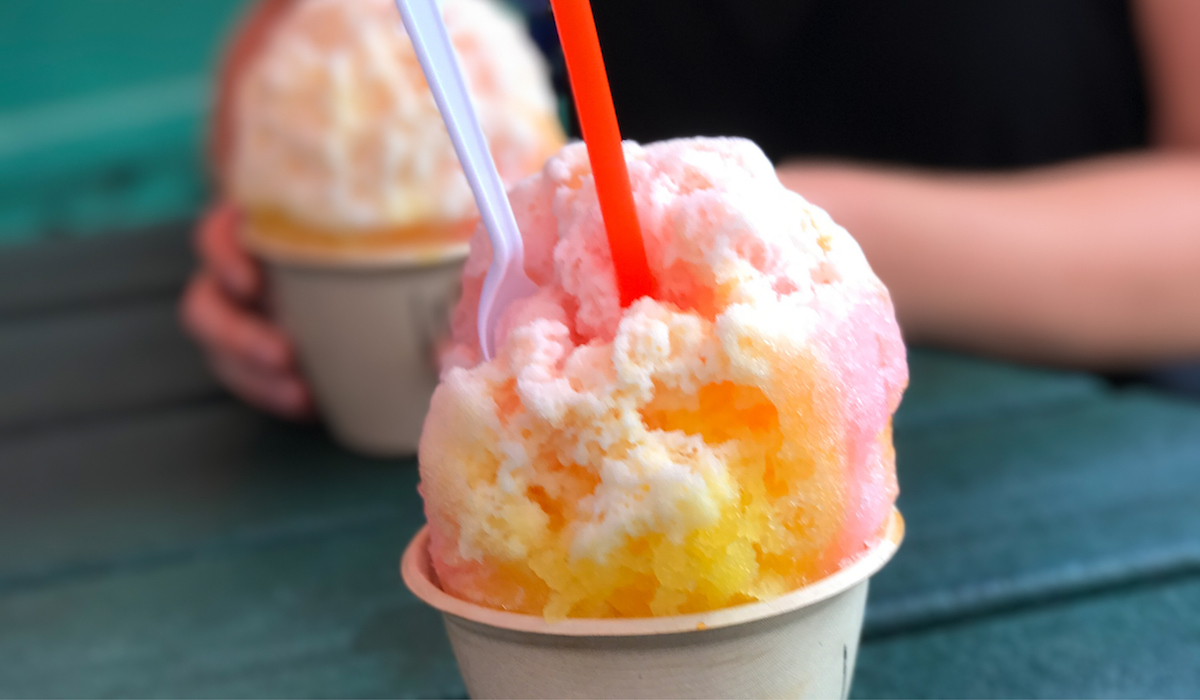 Why we don't have a true "shave ice" spot in the Lower 48 is beyond us. But goodness, gracious. This is a treat not to be missed! And JoJo's is the spot.

They don't use commercially made syrups. They make their own. This not only means you get to sample incredible Hawaiian made flavoring, but each flavor is corn syrup free! Opened in 1992, they have two locations on Kauai and a HUGE selection of flavors. Go for one of their combos to try more than one. We were big fans of the Tropical Breeze – a mix of guava, lilikoi and mango over macadamia nut ice cream.
Insider Tip: They offer two sizes: DaKine (small) and BigKahuna (large). We found even the DaKine was big enough to share.
Farmer's Markets
For us, one of the best parts of visiting Kauai is the fruit. And hands down, you'll find the best fruit at the farmer's markets. This is in large part because most of what's being sold was picked that morning!
Every single day of the week there's at least one farmer's market operating. You can find a full list of them here. Be sure to bring cash! It's a rare vendor who accepts cards.
Locally Smoked Sea Salt
We're big proponents of limiting. But some salt is good and essential for your diet. And if you're going to have it, shouldn't it be amazing?
We stumbled across this locally smoked sea salt by chance. It's made by Henry, a waiter Oasis – a beach side restaurant in Kapa. He smokes it with koa wood, a tree native to the Hawaiian Islands in a weeklong process that involves multiple heating and cooling stages. The result is a salt that dabbles in the savory. It smells like a beach fire and tastes like a walk in the woods.
To pick up a jar, visit Oasis and ask for Henry.
Insider Tip: Grab a bite here too! While it's on the expensive side, you won't be disappointed. The folks at Oasis locally source all of their ingredients to create fresh dishes filled with flavor.
Did we miss something you love about Kauai? Let us know in a comment below!
Enjoy this Article? Let's Keep them Coming.
Make your health a priority. Get our latest updates sent to your inbox.
Published by:

Naturopathic health care with compassionate integrative doctors who understand your unique medical needs.